1. About This Project:
The U.S. Middle East Partnership Initiative (MEPI) is a unique program designed to engage directly with and invest in the peoples of the Middle East and North Africa (MENA). As part of this program, MEPI granted the Peres Center for Peace with funding in support of implementing a new project, in partnership with Core Associates, entitled
"Strengthening the Palestinian Private Sector through Reducing Trade Transaction Costs – A Comprehensive Research and Advocacy Program."

This two-year project seeks to tackle one of the key impediments to Palestinian private sector growth – inflated transaction costs.
The overall objectives of this project are:
Identify, analyze and expose the various cost-inflating mechanisms that plague Palestinian trade

Propose practical ways to address them.

Connect and facilitate information transfer, between relevant stakeholders.
2. What are Transaction Costs?
In the realm of cross-border trade, the study of transaction costs focuses on transactions emanating from procedures and controls governing the movement of goods and services across borders. These are broadly divided into tariffs and fees levied directly on the traded goods and services on the one hand, and Non-Tariff Measures (NTMs) on the other hand.
NTMs are commonly defined as "policy measures other than ordinary customs tariffs that can potentially have an economic effect on international trade in goods, changing quantities traded, or prices or both." This definition encompasses a wide variety of policies and procedures, and refers also to Procedural Obstacles (POs), which are practical difficulties that hinder compliance with various requirements of the trade process. It has been widely recognized that the prohibitively high costs of doing business in the Palestinian Authority increasingly constrain the Palestinian economy, both in relation to its access to competitively priced imports, as well as the attractiveness of its goods and services in Israeli and global markets.
Some of the previous studies authored by both international and local organizations have focused on the cost of transportation and impediments to movement and access in the context of Palestinian trade. Other studies have applied economic models based theoretically on quantity or cost-driven factors to calculate trends in Palestinian import and export markets.
We propose a middle way between these two approaches. By identifying and quantifying transaction costs created by a broader spectrum of NTMs, beyond transportation and movement, we aim to provide evidence-based estimates of de-facto costs as well as practical interventions. Other trade facilitation projects that have taken a similar approach in recent years have wielded meaningful results. This project aims to augment these efforts, and is unique in two dimensions.
First, by being a joint Israeli-Palestinian initiative, the project offers insight into Israeli and Palestinian decision making processes and access to Israeli and Palestinian regulators and business community. It thus create a much needed bridge between the two sides. Second, the project is based on a robust multi-disciplinary methodology, which is in line with global best practices of NTM research and trade facilitation.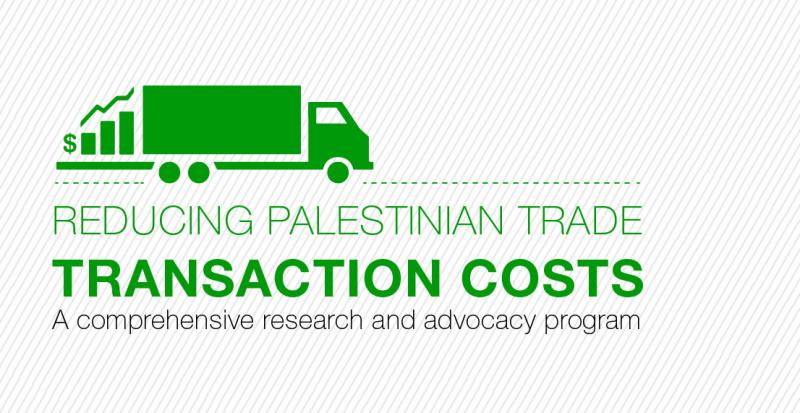 3. Partners:

This cross-border initiative is founded on the strong partnership of the Peres Center for Peace and Core Associates.
Peres Center for Peace is a non-profit, non-political, NGO focused on promoting lasting peace and advancement in the Middle East by fostering tolerance, economic & technological development, cooperation & well-being, all in the spirit of the ninth Israeli President Mr. Shimon Peres' vision. The Business and Environment department is focused on implementing projects based on practical needs and people-to-people methods that support regional economic development and environmental sustainability.
CORE Associates was founded in 2010 and works to provide specialized high-end professional services in the areas of Economic and Trade policy, International Trade, and Planning and Business Development Services. CORE Associates combines a core team of Practitioners with academic and consulting capacity drawn in particular from top level education and experience in the areas of specialization. CORE Associates works to provide consultation services for strategic planning and organizational restructuring, economic development policy formulation and advocacy, project management, and trade and economic research.

4. Methodology
The project is based on an interdisciplinary research framework comprised of three components: extensive field research, broad-based regulatory and quantitative analysis, and advocacy and diagnoses of target areas for intervention.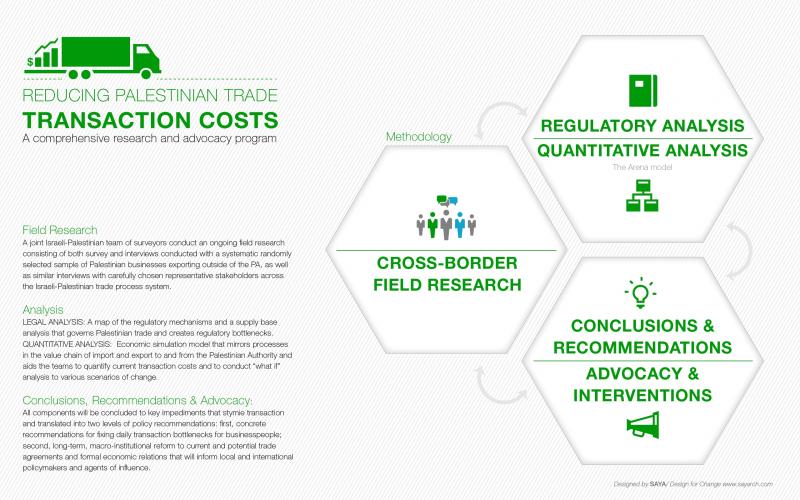 The rationale behind the combination of methods has been succinctly explained by UNCTAD, a leading international organization in the area of mapping and reducing trade barriers.
Here, on the need to combine regulatory analysis of official sources, and extensive research of trade companies:
"Sources of information on NTM policies can either come from official sources, or be based on complaints and concerns of traders. The former tend to exclude less transparent measures, while the latter are often not specific about the measure involved."
And here, on the efficacy of supply chain analysis and simulation models:
"A supply chain perspective can help in the analysis of multiple NTMs. By isolating the individual locations in the supply chain where different policies can take place, it may be possible to obtain a better understanding of which policies act as absolute constraints and which are not constraining, but may increase costs…. Survey instruments can also be designed from the perspective of the costs or time associated with different parts of the supply chain."
5. How to participate?
One of the main components of this unique program is advocacy for change. To identify and ease these costs facing Palestinian exporters this program will use a variety of mechanisms that combine both a top-down and a bottom-up approach through:
Conducting interviews with Palestinian business professionals, Israeli business professionals, and other trade partners to identify the transaction costs.

Providing platforms for discussion and advocacy such as roundtable discussions, public seminars, and advocacy meetings with local policymakers and implementers.

Conducting trained workshops and one-on-one consultations for Palestinian exporters.

Organize closed workshops – to present the research findings and advocate for change to local stockholders, international organizations, and the donor community.
If you wish to participate in one of these activities and events please contact: s.keren@peres-center.org