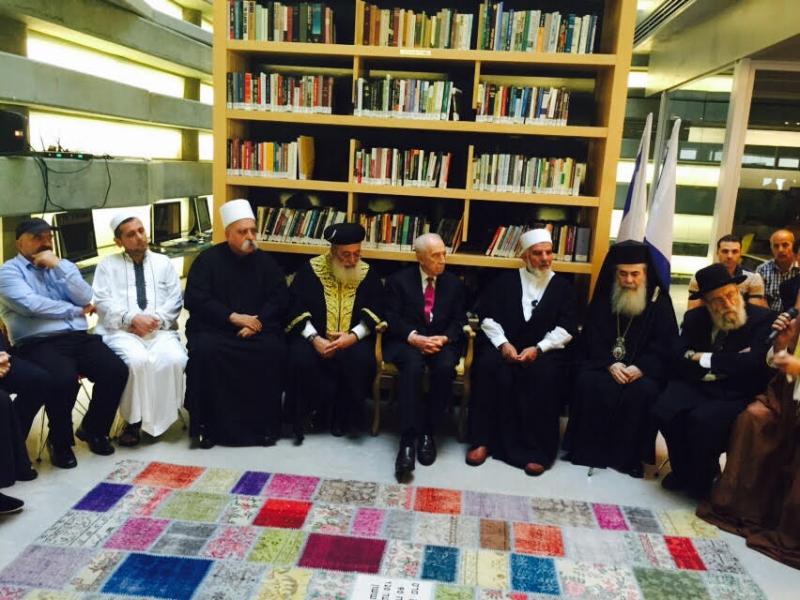 Yesterday, at the Peres Center for Peace, religious leaders representing all Israel's religious sects sat together to speak out against racism and the current violence sweeping this nation. They preached peace and acceptance, and wished our Muslim friends a happy and peaceful new year. Despite being from all different religions, with differing points of view, they all agreed that violence is not the answer and that it only widens the gap between the Jews and Muslims.
In his opening statement, Shimon Peres expressed, "We must pray together and say with a strong voice that there is no God who sanctions murder. We must sit and talk. Violence is not the way."
It was clear to see that these leaders visited the Peres Center for Peace not only to speak about the most recent, tragic events, but also to express their gratitude to former President Shimon Peres for his life's work as an ambassador for peace. They spoke from their hearts, sharing their grief and sorrow for those lost in this terrible and turbulent time. The leaders voiced their views, echoing the same sentiment, despite their differing backgrounds. Jewish Rabbi, Shlomo Amar and Muslim Sheik, Hamad Kivon shared their messages for peace.
Rabbi Shlomo Amar, Former Chief Rabbi and current Chief Rabbi of Jerusalem said, "There is no religion in the world that allows bloodshed. The commandment 'thou shalt not kill' is alive and indisputable."
Sheik Hamad Kivon, Chairman of the Association of Muslim Clerics stated, "The sanctity of humanity is above all. It is forbidden for anyone to take the law into their own hands and to pull out knives."
It was a special and important moment at the Peres Center for Peace yesterday afternoon. Leaders from all faiths came together, representing their people, expressing the same view. They shared at least one thing in common. They desperately want peace, and so do the citizens of the State of Israel. At the end of the conference, representatives from all of the religions prayed together and sang with strong voices the song "Ose Shalom Bimromav" (He makes peace above all).