Mini Mondial for Peace 2017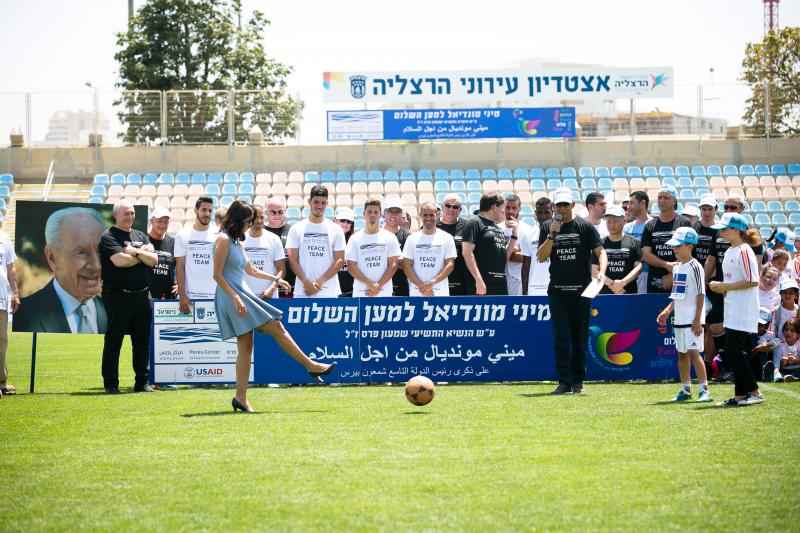 Every year, the Peres Center holds the Mini Mondial for Peace, the peak event of the Twinned Peace Sports Schools (TPSS) program. On May 9th, in an exciting day filled with peace education through sport activities, 800 Israeli and Palestinian, Arab and Jewish boys and girls came together at Herzliya Stadium, united as friends on the soccer pitch. Over the course of the school year these participants met one another, trained together, learned each other's language, and played soccer together on mixed teams. This project, which has been running for 15 years, brings together hundreds of children from different communities all over Israel and the West Bank every year, with over 20,000 children having participated to date.
As in previous years, this year Ambassadors to Israel from countries around the world, Mayors from across Israel, and professional all-star players from the Israeli Premier League came out to play with our participants in opening exhibition matches, taking part in the fun and serving as role models. Also in attendance was Ms. Alona Barkat, owner of the state championship team Hapoel Beer Sheva, who was awarded the "Peace Ambassador in Sport" award in the name of the late Shimon Peres for her activities promoting peace and tolerance in Israeli sports.
As this was our first Mini Mondial without our beloved founder, the Ninth President Shimon Peres, attendees stood and applauded to honor his legacy, as is done to honor the passing of important individuals on soccer pitches around the world. President Peres proudly attended the Mini Mondial every year, where he encouraged our young participants to dream big, and once remarked, "Football is a tool for education and peace. It carries no stress, no hatred and no racism".
We hope to see you all at the Mini Mondial 2018!