Saving Children showcased at AIPAC Policy Conference before 20,000 participants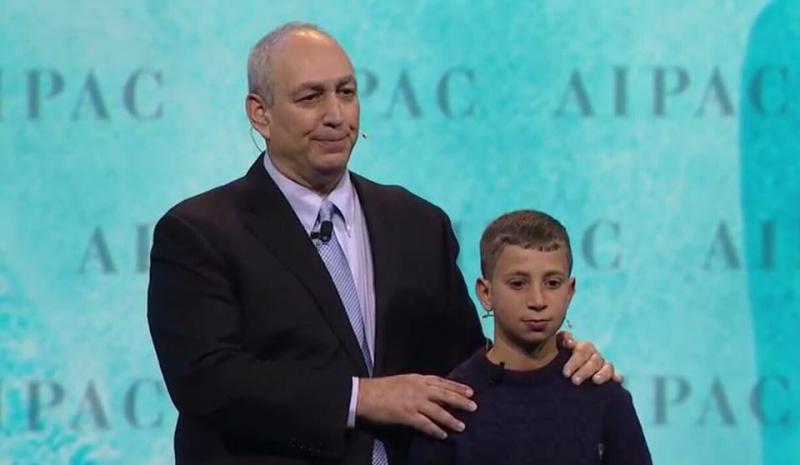 Initiated by the late Ninth President Shimon Peres over 10 years ago and deeply rooted in the Jewish value of Tikkun Olam – making the world a better place – the Peres Center's Saving Children program has provided lifesaving treatment to around 12,000 Palestinian children and babies since its inception, treating the most vulnerable.
This year, AIPAC chose to showcase Saving Children at the plenary session of their Policy Conference in Washington D.C., which gathered together around 20,000 individuals. This was an amazing opportunity to share our important work, and we are truly grateful to AIPAC for their friendship.
Following a moving tribute to President Peres and the screening of a video showcasing the Saving Children program and Yousef's experience, which can be seen here, Chemi Peres, son of the late Ninth President and Chairman of the Board of Directors, took the stage together with Yousef, a young Palestinian boy who received heart surgery within the framework of the Saving Children program, when he was just a few days old.
Yousef's story is representative of so many Palestinian children and babies who are in desperate need of lifesaving medical care that they otherwise would not be able to receive. This program offers these children a second chance at life. As the Ninth President used to say when addressing young people, "You have greater potential than you know." Children who are treated through this program, like Yousef, become living representatives of the beautiful human connections forged between Israelis and Palestinians through important programs such as these.
When asked how he would like to be remembered, President Peres remarked, "I cannot think of anything more noble, more moving for me as a person, then the idea that I took part in saving the life of a child." This program ensures that President Peres' legacy, of saving the lives of the most vulnerable, ever lives on.