The Archbishop of Canterbury visits the Peres Center to speak on interfaith relations and peacebuilding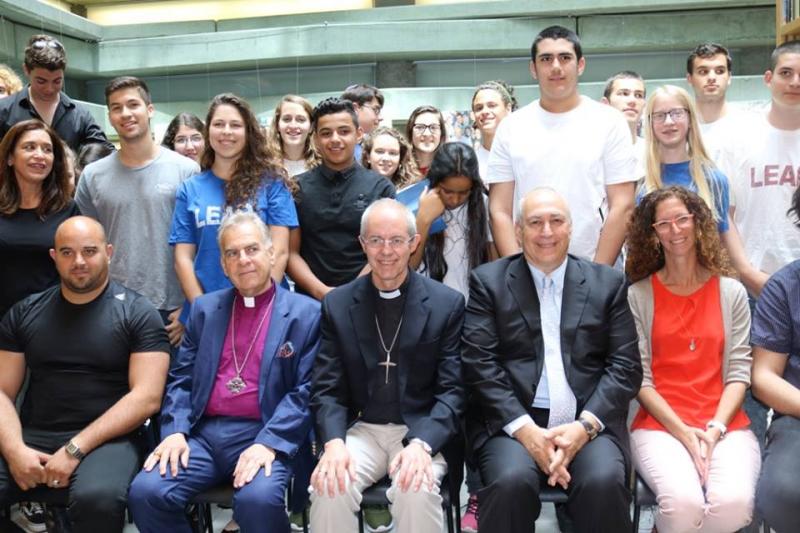 The Archbishop of Canterbury The Most Reverend Justin Welby, the senior bishop and leader of the Church of England, visited the Peres Center for Peace and Innovation and met with Chemi Peres, Chairman of the Board of Directors. They engaged with young leaders from the Jewish, Muslim and Christian faiths – as well as Palestinian and Israeli Ambassadors for Peace from several of our flagship peacebuilding initiatives. They were joined by Mrs. Caroline Welby, the Archbishop of Canterbury's spouse, Mr. Tony Kay, Deputy British Ambassador to Israel, and Mr. Aldo Enriquez, the British Ambassador's spouse, together with a delegation of representatives from the Anglican Church, St. George's Cathedral in Jerusalem and the British Embassy in Israel.
We were honored that the Archbishop chose to end his important tour of the region with us, in a shared message of interfaith relations and hope. His words were inspiring, encouraging our young attendees and lifting their spirits.
Chemi Peres opened the discussion and said: "Most people on both sides want peace. They want to live a good life, to see their children successful and secure. You young people must not wait for an end to the conflict, but must trust yourselves and get together, Jews and Arabs."
Both Chemi Peres and the Archbishop spoke to the importance of science and technology to move society forward and promote peace, and also to the importance of maintaining the moral values of dignity, patience, and tolerance, and to the responsibility that comes with change.
The Archbishop said: "We are undergoing great changes in society with science and technology, and there are many opportunities opening up. We must ensure that everyone benefits from these changes and finds their lives more fulfilled."
It became clear during this meeting that our young people are paving the way to a better tomorrow. They are inquisitive, thoughtful, and willing to stand up for their beliefs. At the Peres Center, every day we see individuals of all ages, religions, ethnicities, and backgrounds, coming together through our innovative programs, breaking barriers and building bridges to lasting friendships.
This meaningful encounter left our future leaders with a powerful message – that they can be the change they hope to see, and that they have leaders to whom they can turn in their pursuit of dreaming big, and making a better tomorrow a reality.