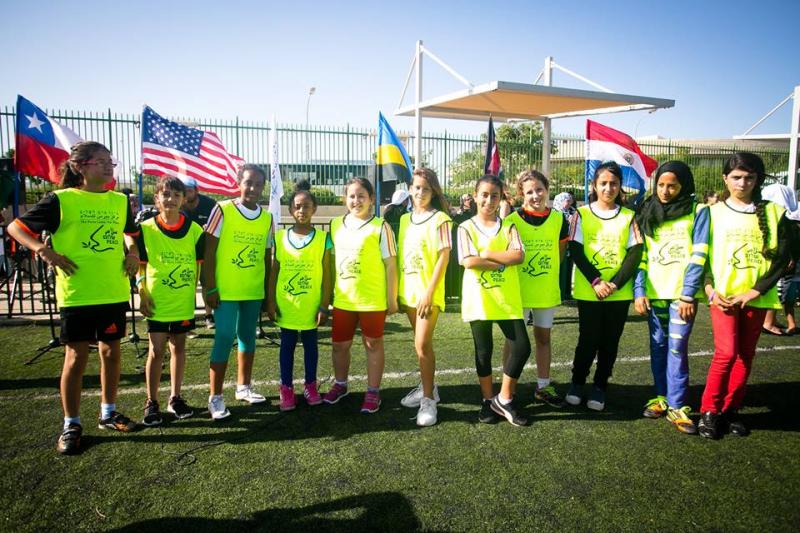 Street Football and Children's rights – these were the key themes in a joint project, an international learning collaboration, between the Peres Center for Peace and Innovation and its global partners: Formaçao (Brazil), Chigol (Chile), Centro para el desarollo de la inteligencia (CDI) and Paí Pukú (Paraguay), Espérance (Rwanda), Hodi (Kenya), SALT Academy/Mighty Girls (Cambodia) and KICKFAIR (Germany).
For 14 years the Peres Center for Peace and Innovation has been promoting peacebuilding through the shared language of sport through the Twinned Peace Sport Schools (TPSS) program, reaching 20,000 young people to date. From the values of teamwork and common goals to shared struggles and victories, sport has the power to unite youth from different cultures. Together with local, regional, and international partners, we reach broader and wider audiences, promoting the values of shared-living, teamwork, and self-confidence in children and youth – Arab and Jewish, Israeli and Palestinian.
In 2016 it was our pleasure to be a part of an amazing international program – the International Children's Rights Tournament – conducted by the Football Learning Global (FLG) Network, through the collaboration of KICKFAIR (Germany) and the above mentioned international partners. Based on the 2015 international symposium in Stuttgart and the jointly developed action guide translated into 4 languages with the support of the German Federal Ministry of the Interior, 27 events and hundreds of workshops about Street Football and children's rights took place in participating countries across the globe. The Peres Center was proud to host the event in Israel, bringing together around 250 Palestinian and Israeli girls who had gone through a full year of peace education through sport programming, as well as dozens of student leaders, coaches, and parents.
Over the course of the school year these Arab and Jewish, Israeli and Palestinian girls met one another, playing football on mixed teams, each team representing one of the FLG member countries. At the end of the school year these young girls came together for a peak event, each mixed team proudly displaying their designated country's flag.
The fantastic day concluded with an award ceremony and left everyone more inspired by the strength and determination of the young girls in this program.
Click the following link to see pictures from this amazing event on our Facebook page: https://www.facebook.com/TPSS2002/posts/10154347521104273