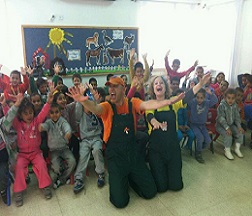 22nd March 2013
This week was a particularly busy one for the talented New Beginnings team, with 12 plays performed for kindergarten children all over the country. The New Beginnings play and workshop, which puts across messages of equality and coexistence to the young audience, has so far been performed to 35 kindergartens in this year alone.

We have received hugely positive responses from all involved, and of course most importantly the children themselves – and we would like to say a big thank you to the hugely talented actors Ibrahim Skala and Gidona Raz Aisa.

We would also like to take this opportunity to thank the Government of the Grand Duchy of Luxembourg, whose support has meant we were able to bring the play to children all over the country.

We are looking forward to continue performing the plays following the Passover holidays.