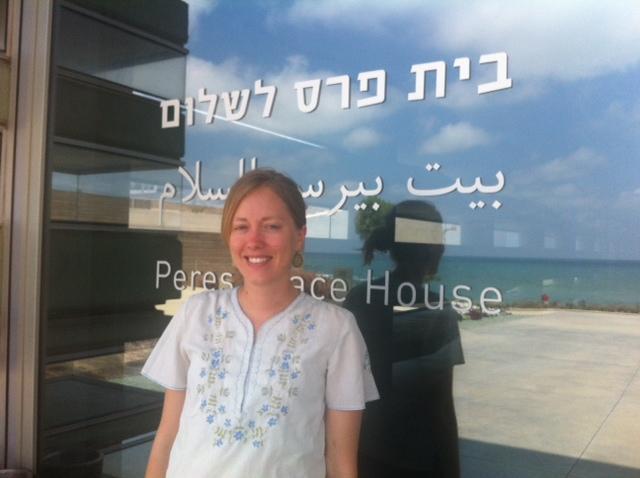 July 1, 2013
Hannah is one of the Peres Center's Project Managers for environmental and agricultural projects. She came to the team a little over a year ago and has worked hard to expand our programs in this area. She sees a logical connection between peace building the environment; "we all have a vested interest in protecting our environment and taking care of the natural resources in the region, so this is a very natural point for cooperation." Among the projects she is managing is an aquaculture program designed to train Palestinian farmers and agricultural engineers in aquaculture systems; fish farms that facilitate fish breeding and harvesting. These farms have the potential to diversify the agricultural industry in the West Bank, provide nutritional benefits for local communities, and develop into a lucrative export industry. Fish farms can also be managed in a water-efficient manner, so that water supplied to fish ponds can then be reused as nutrient-rich irrigation water for crop production.
The Peres Center's aquaculture program is unique because it develops professional relationships between Israeli and Palestinian aquaculture farmers, suppliers, consultants and businesses. "I believe that it's important to have Israeli and Palestinian cooperation in every sector, and here is an area of expertise that Israel has a lot to offer due to its regional proximity and geographic and climatic similarities to the West Bank."
"Last year the aquaculture program focused on hands-on training programs for farmers and engineers to better understand how to care for and support aquaculture facilities. This year, we are taking it a step further, by sending consultants to the facilities to assess their production potential and create a development plan to realize their possibilities. There are many areas for growth including increased expertise in veterinary care, the development of new aquaculture faculties such as hatcheries, and expertise in packaging and marketing practices. Through intensive on-site assessment and training programs we hope to provide farmers with the skills and expertise necessary to maintain and expand their aquaculture capacities."
Without devoted and professional employees such as Hannah, and without your constant support and commitment, we wouldn't be able to maintain this great work and initiate these extremely important projects.