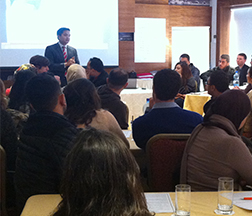 January 23rd, 2014
This month we held a unique workshop through the Yala Young Leaders Program designed to challenge and engage more than 50 Israeli and Palestinian young leaders between the ages of 20-30.
The interactive training workshop utilized simulations and discussions to endow participants with a variety of negotiation skills and a comprehensive framework from which to successfully approach real life negotiation situations.
The workshop was led by Dr. Shula Gilad, a Senior Fellow at Harvard Law School's program on Negotiation (PON), and Shawn Dunning, a Conflict Resolution and Leadership Specialist from Search for Common Ground, an NGO that focuses on conflict resolution through cooperative action.
The participants responded positively to the experience and described the workshop as "An incredible opportunity to meet our peers from 'the other side' and get to know each other while learning useful skills."