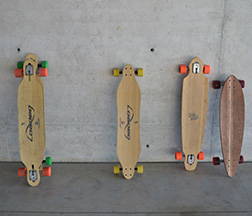 July 10th, 2013
A new young leadership sports program was established this month at the Peres Center for Peace.
The project involves 15 youngsters, Jewish and Arab, from the Jaffa community.
As part of this project, the participants will develop cross cultural communication skills, learn the language of the "other" and take part in young leadership workshops using the tool of Longboard skating.

The youngsters were very excited before the first meeting, where they introduced themselves and met the entire group. At this first gathering, the participants had their first longboard practice session which was conducted by professional coaches. It wasn't an easy mission to ride the longboards for the very first time, but the enthusiasm and motivation of the youngsters kept them at it.

During the next meetings, and in addition to perfecting their longboarding skills, the youngsters will discover and develop community leadership tools.
After completing this program, the participants are invited join the Peres Center's sports department as young leaders.