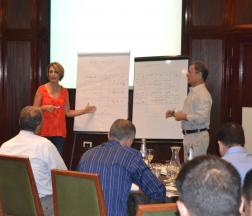 June 6 – July 5th, 2013
Over 40 Palestinian businessmen and women from across the West Bank and East Jerusalem participated in a capacity-building program, as part of the Peres Center's "Partners in Business Partners in Peace" project.
The participants, businesspeople from various sectors: food and beverages, handicrafts, textiles, marble and stone and other services, came from various places in the Palestinian Authority, from Tulkarem to Hebron. The long-term stay in Israel over a period of five weekends, allowed them to interact with each other, with the staff, and with Israelis inside and outside of the classroom, as well as to enjoy the Tel Aviv culture and night life.
Throughout the course, the participants learned about the principles of marketing, and each company representative was assisted in developing their own marketing plans for their respective businesses. Further, some of the participants practiced business presentation skills in front of their class-mates, in Arabic as well as in English. The lecturers assessed their presentation skills, and also shared invaluable and fascinating tips on body language in the business world.
The course, in partnership with Shenkar College, included over 50 hours of class-time, and all participants received a certificate in marketing upon completing the course. Finally, the participants will now return to implement what they have gained from the experience in their companies. The participants provided very positive feedback on the course, finding it extremely interesting and relevant, stating that it provided them with much motivation to market their own businesses.
This program is supported by the EU Partnership for Peace Program, the Norwegian Embassy in Israel and GIZ.