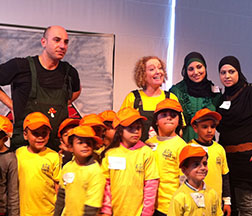 21st of April, 2013
Over 2,000 young Jewish Israeli and Arab Israeli children from all over the country have enjoyed the wonderful "New Beginnings" play at the Peres Peace House in Jaffa over the past year.
The play conveys messages of coexistence and tolerance through a theatrical story of a young Palestinian boy and an Israeli girl. The Peres Center is extremely excited to host all of these young Jewish and Arab children here at the Peres Peace House in Jaffa.

The play consists of a mixed Israeli-Palestinian cast that performs both in Hebrew and Arabic. The show is geared towards kindergarten and elementary school children and is performed all around Israel, mainly in mixed Arab-Jewish cities. The interactive performance is always a huge hit with the children, who get very excited and involved, responding to the questions of the actors directed at the audience. The project reinforces the power of culture and the arts to cut across barriers and breakdown fears, especially amongst children.

This project is supported by the Government of the Grand Duchy of Luxembourg, Ministry for Development Cooperation and Humanitarian Affairs.