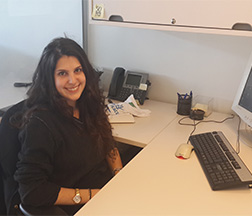 "Where Peace is More than Just a Word: My Internship at the Peres Center for Peace"
Point of view: Op-ed
By: Noa Naftali
Imagine what peace looks like. It looks like Jewish and Arab, Israeli and Palestinian children playing soccer together in the fields, it looks like medical cooperation between Israeli and Palestinian doctors, it leads to business innovation as the result of collaboration between Israeli and Palestinian businessmen and women, and it takes the form of artistic communication between photojournalists throughout the region. These things are all happening on a daily basis at The Peres Center for Peace, against the backdrop of diplomatic stagnation and in spite of well-publicized political discord.
The Peres Center for Peace was founded 17 years ago by Israel's current President, Shimon Peres, and operates programs across four different departments: Medicine and Healthcare, Business and Environment, Culture and Technology, and Sports. Each of these departments implements projects that work on many different levels to affect positive change.
For example, the Sports Department runs afterschool football programs (or soccer, for us Americans) for children from peripheral communities where afterschool programs are not commonplace and are otherwise often unaffordable. They introduce girls' football in traditional communities, Arab and Jewish alike, that generally would not offer any athletic opportunities for girls. In addition to running afterschool activities where they are most needed, the Sports Department brings together Arab and Jewish, Israeli and Palestinian children for joint practices and football matches that emphasize the spirit of sportsmanship and educate towards values of teamwork and common goals.
I have been to these multicultural training programs, and what happens is pretty incredible: children communicating with one another in Arabic and Hebrew, sharing basic vocabulary and making efforts to learn about each other's cultures and backgrounds; and lots and lots of football. The craziest thing is, while most of these children live within spitting distance of one another, they would almost certainly never interact with one another in any context whatsoever were if not for this program. How is a generation of young Jews and Arabs supposed to overcome decades of hostility, fear, and violence without ever interacting with one another? Probably not through watching the 24-hour news cycle or by listening to most of their politicians.
Likewise, the Medicine and Healthcare Department runs two complementary projects, both significant and profoundly impactful. The Saving Children Program brings Palestinian children in need of complicated, lifesaving procedures that are not yet available in the relatively nascent Palestinian healthcare system to Israeli hospitals to receive treatment. During their stay in Israel, the Palestinian child and his or her family interact with Israelis who are not in a khaki uniform. Through this project, lives of children are saved, and meanwhile, meaningful, positive relationships are formed.
But the Peres Center is not in the business of band-aid solutions to deeper injuries: the second project run by the Medicine and Healthcare Department brings young Palestinian doctors to complete their residency in Israeli hospitals, to learn and to specialize in these same critical procedures that are not yet available in the Palestinian healthcare system. These young doctors learn Hebrew in Ulpan and become an integral part of the Israeli medical team. Upon returning to their hometowns, the doctors continue to communicate and consult with one another across the Green Line, sharing medical expertise and personal updates.
During a visit to Sheba Medical Center in Tel Hashomer along with the Netherlands Foreign Trade and Cooperation Development Minister and her entourage, I met one of these young Palestinian doctors, who talked about his foray into Hebrew medical vocabulary, and praised the efforts of the hospital's Israeli staff to learn Arabic through departmental language courses.
Last week, I attended a training course in East Jerusalem run by Peres Center affiliate YALA-Young Leaders, a social media-based network for young people from the Middle East and North Africa who are invested in working towards positive change throughout the region. The training session, run by a professor from Harvard's Negotiation Program, was attended by 30 young, bright Israelis and Palestinians who spent the day learning critical negotiation skills and forging lasting connections.
These are only some of the incredible projects coming out of the Peres Center, all of which identify and cater to the very real needs of our communities while making a significant impact through human interaction. Over the past five months, while interning in the development and external relations part of the Center, I have witnessed all of the incredible, inexhaustible passion and hard work that goes into organizing and executing each and every activity, day after day, week after week, from finding and securing funding to obtaining permits and making sure everything runs as smoothly as possible, to following up and evaluating impact during and after the project.

Over the past five months, I have seen a different side of things. In between reading the news and getting sucked onto the sensationalist bandwagon of hyper-negativity, I have seen what hope looks like. I have witnessed tangible positive action on the road to mutual understanding and coexistence, and I have been a part of it. I encourage you to be a part of it too, whether through contributions of time or money or by increasing awareness and spreading the word.

Noa Naftali, interned in the External Relations and Development Department at the Peres Center for Peace from Sep. 2013-Feb.2014