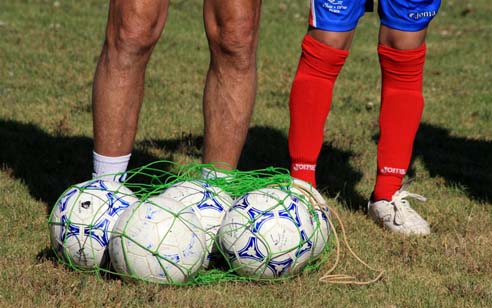 May 3-4, 2013
Some 80 boys from the Twinned Peace Sports Schools project attended an intensive two-day training camp. The boys participated in a series of sport and cultural activities, all of which enabled them to get to know one another. The boys, from Sha'ar HaNegev and Nablus enjoyed spending this quality time together, which included sharing rooms together, eating meals together and hanging out during their free time over the two days.
This is a unique opportunity for the boys, who ordinarily meet for joint activities that span a few hours. The Peres Center sees great value in longer joint meetings as it enables the boys to form stronger, deeper friendships and further break down the barriers between them.
One student from Sha'ar HaNegev exclaimed: "After the first meeting, I didn't believe that we would succeed in establishing this kind of connection… now we know that there is nothing that stands in the way of determination… I left the training camp with a different kind of accomplishment; I left with two new friends from Palestine."