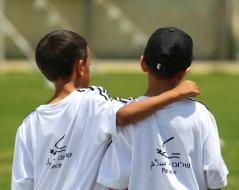 The "other," when unknown, may be perceived as intimidating and frightening. The lack of interaction and positive dialogue intensifies such fears and misconceptions. Specifically, as children and youth are severely affected by conflict, they are susceptible to developing negative perceptions of the "other."
As the future of the region, the children and the youth have the most to gain from the development of durable peace and thus, it is crucial to engage children and youth in peace education programming.

The Peres Center for Peace and Innovation has developed comprehensive educational methodologies utilizing diverse tools to bring together children and youth (Jewish and Arab, Israeli and Palestinian, as well as those from across the Middle East North Africa region - MENA). This is important in order to mitigate fears, break down emotional barriers, create unprecedented cross-border and cross-cultural dialogue, and equip the younger generations with the necessary tools to become constructive and influential leaders within their communities and in the region at large.

Our methodologies utilize the following mediums:

Sport - from values of teamwork and common goals to shared struggles and victories, sport has the power to unite youth from different cultures and backgrounds. Through a language understood by all players, Palestinian and Israeli, Jewish and Arab children unite under the common banner of sport, cheering each other on, helping each other win and building lasting friendships.

Technology - the rapid advances in technology, from video conferencing and e-mailing to blogging and social media, are transforming the way people from different cultures, ethnicities, and regions perceive and interact with one another. For Israelis, Palestinians and people across the MENA region, these technologies are particularly valuable since, as despite physical proximity, contact is limited.

Culture and the Arts – culture and arts are a means of creative expression and an effective tool with which to open minds and challenge beliefs. Through visual and performing arts, powerful emotions such as fear, hope and aspiration are manifested in unique and extraordinary ways, in a language that transcends the confines of letters and words.