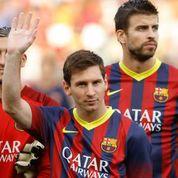 August 4th, 2013
After months of preparations and practice, 2000 enthusiastic Jewish, Arab, Israeli and Palestinian children from our "Twinned Peace Sport Schools" project took part in a unique football clinic led by FC Barcelona as part of their "Peace Tour".
The children sat in the stands of Bloomfield Stadium, and cheered FC Barcelona as they played on the pitch.
50 of our children had the privilege of escorting the team on to the field; and 20 children practiced with the players in the training clinic!

This remarkable initiative proves to us, once again, that sport is an effective peacebuilding tool and a unique way to break down barriers.