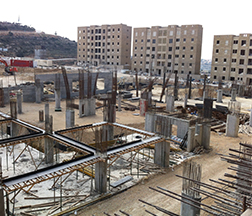 7 February 2014
This month, the Business & Environment Department organized yet another tour of the city of Rawabi – the first planned city in Palestine – for a group of Israeli urban planners, architects and academics. Rawabi is located about 9 kilometers north of Ramallah and is still currently under construction.
As the group entered the city, between the grapevines and the industrial zone, we met the Deputy Director of the Rawabi project. He passionately discussed the history and thinking process behind building a city, as well as the challenges and difficulties faced by the team. Later, he led the group on a walking tour, describing the process of marketing and selling residential units.
Members of the tour group were amazed at the innovative construction and the importance given to small details. Carefully designed to maintain a high quality of life for its residents, Rawabi will include green spaces, entertainment venues such as restaurants and cinemas held to an international standard, fashion boutiques, banks, three schools, public libraries, healthcare, a church, a mosque, medical services, and more.
The tour concluded with an open discussion at the visitor's center, where the Rawabi staff happily answered participants' questions. The visitors' center by itself was worth the visit, including a guided tour of a scale-model while showcasing the breathtaking mountain scenery.
Participants were unanimously impressed by the visit, and agreed they would love to re-visit Rawabi when the city is further developed and populated!