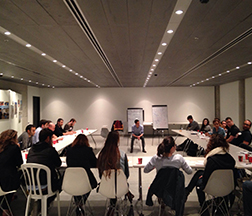 March 6th, 2014

This month, the MENA Leaders for Change Program, as part of the YaLa Young Leaders Project, conducted the first meeting for the Israeli participants group at the Peres Peace House. Over 20 Israeli participants attended the complimentary training workshop, which prepared them for future meetings with their Palestinian and regional peers.

The seminar dealt with both theoretical material and practical solutions relating to conflict resolution and mediation, including a guest lecture by an expert on communication skills. The group also raised common issues and concerns, which appear in their social media groups, reflecting on Israeli, Palestinian and Arab participants alike.

The meeting concluded with an open discussion, where all of the participants contributed without fail.

Participants left with positive impressions, claiming that they eagerly anticipate a future joint meeting with their regional counterparts. They additionally stated they would be happy to discuss practical solutions to the conflict that will lead to a close, authentic connection between the parties.