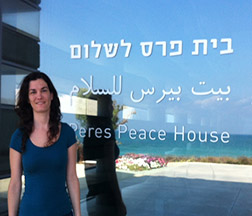 September 1, 2013
Yasmin has run the Training Doctors Program for the past five years. This unique project focuses on training Palestinian Doctors and Medical Staff in Israeli Hospitals. More than 150 doctors and medical staff were trained as a part of the program since its establishment in 2005.
"This is a capacity building project which aims to build, facilitate and strengthen the Palestinian healthcare system by focusing on the public sector. The doctors are referred to the Peres Center by Palestinian public medical institutions for residencies and fellowships, specifically in the Palestinian healthcare system fields where there is a lack in the necessary knowledge and personnel."
"We conduct the initial interview to assess if the candidate is suitable for the program. If the candidate is eligible, we look for a position in an Israeli hospital." Before the candidates begin the training program, they are enrolled in a Hebrew language course (Ulpan). "Aside from studying the language, which is an essential tool for integration into the program, the Ulpan is usually a Palestinian doctor's first encounter with the Israeli society and way of life. I think this is an important part of the preparation," Jasmine adds. At the end of the Ulpan, the doctors are ready to begin professional training.
The Peres Center for Peace supports the Palestinian doctors during the entire process, providing the required permits from the Civil Administration and the Israeli Ministry of Health, as well as supplying them with a monthly stipend and assisting them with any issues that may arise during their training.
"My contact with the Palestinian doctors evolves from their first meeting with the Israeli healthcare system, which often seems intimidating, throughout the process and the entire course of their training, during which they are faced with many personal and professional challenges. Throughout it all, I am there to address any problem, question, or need."
"I am lucky to witness new cross-border partnerships between the Palestinian healthcare professionals and Israeli medical staff, which are based on knowledge sharing and deep-rooted personal and professional relationships among people who share a common language of medical professionalism and ethics. In my opinion, the greatest achievement of the project is the fact that the doctors are able to strengthen the capacities of Palestinian public healthcare system upon their return home at the end of the training program."
The Training Doctors program was established in 2005 with the support of the Danish Government. This program has been expanded throughout the years, and is still being supported by the Danish Government, as well as the European Union, the British Embassy, and other supporters.
Without devoted and professional project managers such as Yasmin, we would not be able to develop and maintain this extraordinary program, which enables Palestinian doctors and medical personnel to expand their knowledge and practice.