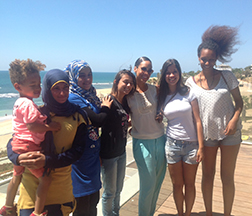 July 4th, 2013
A huge thank you to Alicia Keys who recently visited the Peres Center for Peace.
We were very happy to have the opportunity to share our important peacebuilding work with Alicia and her beautiful family and colleagues.
We were especially honored to introduce her to one of the over 170 Palestinian doctors that have been trained in Israeli hospitals, and to 5 inspiring young Israeli and Palestinian girls who are part of our Twinned Peace Sport Schools project.
We thank Alicia Keys for her interest in our daily work, her words of support and belief in the possibility of peace.