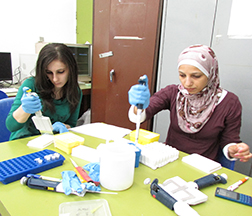 August 18-22, 2013
This month, researchers and graduate students from Al-Quds University and the Technion-Israel Institute of Technology came together to investigate advanced methods for removing pharmaceuticals from treated wastewater.

As part of this innovative research project, two master's students from Al-Quds University spent a week working in the lab with their research partners at the Technion. During their stay, the master's students learned a new experimental method that was developed during the research program, and tested their own samples, which traveled with them from their lab in Al-Quds University.

This visit fostered numerous scientific dialogues between Israeli and Palestinian researchers, as the collaborating researchers discussed their experimental results from the program and toured additional Technion research facilities together.

The week concluded with a meeting between the head researchers of the program, in which they delved into their findings and openly explored interesting angles for submitting joint scientific publications based on the program's results.

Through the Regional Water Research Project, we have witnessed how science can break down barriers as well as promote Israeli and Palestinian technological advancement, while contributing mutually beneficial scientific developments to our region.
This activity was part of our Regional Water Research Project, which is supported by Sanofi.