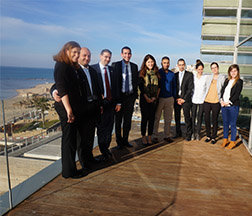 January 7th, 2014
Ambassador of the United States to Israel, H.E. Daniel Shapiro, visited the Peres Center for Peace this month along with his team. The Ambassador met with the staff of the Peres Center and its partners, and learned about our many different projects, which bring together Jews and Arabs, Israelis and Palestinians, and facilitate tolerance, cooperation, prosperity, and economic and technological development in the Middle East.
The Ambassador also toured the Shimon Peres Archives, located at the Center, and viewed fascinating historic photographs and documents from the President and former Nobel Peace Prize recipient's private collection.
The Ambassador praised the Center's work upon the end of his visit.
We are grateful for the Ambassador's visit and for the role of the Americans in promoting and facilitating negotiations between Israel and the Palestinians. We look forward to future visits and to continue working together towards a better and more promising future.