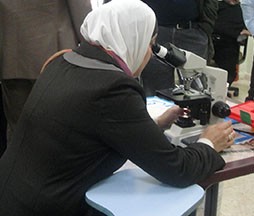 November 28th 2012
As part of the Peres Center's Aquaculture Development Program, a one-day workshop on veterinary care was held in Jericho for a group of Palestinian veterinarians and fish farmers. This program comes at a time when the aquaculture (fish farming) sector is growing rapidly all over the West Bank, with tens of Palestinian farmers recently establishing new production ponds and regional expertise being developed extensively.
Through lectures and hands-on exercises Israeli aquaculture experts taught the participants about technical methods for evaluating water quality, sampling fish and diagnosing fish diseases. Following discussions on the vital implications of water quality conditions, the participants sampled water quality parameters of an operating fish pond and collectively analyzed the combination of factors affecting the health of the fish. Fish were also extracted from the pond, dissected and examined by the workshop participants, after which the health of the fish observed was evaluated in an open discussion.
The Aquaculture Development Program is generously supported by the Pratt Foundation.