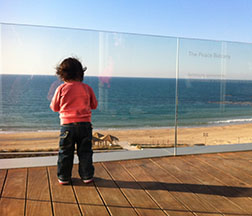 December 23, 2013
This month, we had an unexpected visit from little, three-year-old Asia, considered a medical miracle after her life was saved following a series of treatments in Israeli hospitals and thanks to remarkable medical cooperation within the framework of the Saving Children project.
We were thrilled to meet Asia and her mother, who came to the Center to visit the team of the Medical Department. Asia, who has made a full recovery to date and has been able to return to a normal life with her family, ran around the hallways of the Center with a smile on her face.
Asia is one of over 10,000 Palestinian children who have received lifesaving treatments in Israeli hospitals as a part of the Saving Children project.