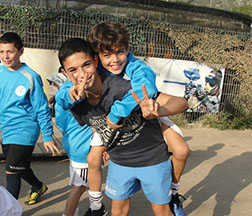 20th November 2012
During the very difficult times of the recent Operation Pillar of Defence, when Jewish-Arab relations in Israel were sadly being tested, the Sports Department decided to initiate an enjoyable experience for the kids in the South of Israel – both Jews and Arabs – to allow them to take a break from the stress and worry of hiding in the shelters.

Approximately 80 children from the Twinned Peace Sports Schools from Rahat, Merhavim and Kiryat Gat came up to Haifa for a day of fun, and were very warmly received at the Haifa Football Club facilities. They enjoyed a few hours of football, and afterwards continued on for an 'extreme' afternoon of ziplining and wall climbing – guaranteed to take their minds of the current realities.

For the children, coaches and accompanying parents it was a relaxing and hugely fun experience that allowed them – at least for an afternoon – to put aside their worries and just enjoy themselves.
We would like to thank Aroma, Macabbi Haifa and 'Shafan Sela' for making the great day a reality.

See the Sport at the Peres Center for Peace's facebook page to see all the photos from the event.