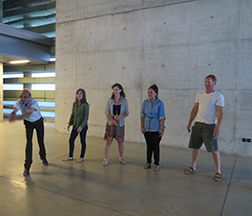 October 21, 2013
Some 30 coaches and partners from our Twinned Peace Sports Schools (TPSS) Project gathered this month at the Peres Peace House in order to officialy mark the opening of this year's project activities.
The participants, boys' and girls' football coaches, both old and new coaches at the project, came from all around Israel and the Palestinian Authority (including from Sderot, Yatta, Qiray-Gat, Rahat, Jericho, Nablus, South Sharon, Abu Gosh, Ein Rafa, Beit Nir and Jaffa).
The day began with an ice breaking activity which united the coaches and allowed them to feel comfortable and open-minded. Then, they gathered at the auditorium for a short briefing where the new goals for the upcoming year were set.
In the second part of the day, the coaches were divided in their original twin groups and got the chance to get to know one another. They shared stories about their previous experience as coaches in this project; they spoke about their hobbies, values, and matched together their expectations.
The meeting was concluded with a joint dinner at the Peace House.
The coaches gave very good feedback and were happy to take part in this first activity of the year. They enjoyed their time and were happy to receive effective tools for the upcoming year.
For more picture click here.