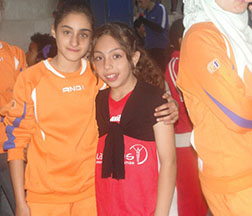 Nov 13th 2012
50 Jewish and Arab girls from Ein Rafa and Beer Tuvia attended a special session of our Twinned Peace Basketball Schools in Ein Rafa, where they were surprised - and delighted - to meet former NBA star Brian Scalabrine!

The visit was a great opportunity not only for the girls to play with and learn from a professional, but also to meet each other again following the suspension of the programme due to a lack of funding. The girls - who had become great friends during their time in the program - thoroughly enjoyed meeting each other again to play basketball and just have a chat. We sincerely hope they manage to meet again soon.

To see more photos from the day, see the album on Sport at the Peres Center for Peace's Facebook page.