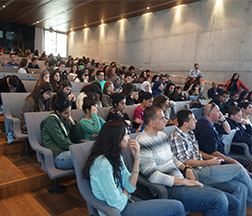 Feb 16th and Feb 18th, 2014


Over 200 Jewish and Arab high school students participated in the first face-to-face meeting of the "Bridges for Peace" project, in cooperation with Ort Educational Network and Google Israel. The participants, whom have been communicating online in recent months through the Google+ Hangout platform, enjoyed working together, in the "real" ground at the Peres Peace House, on various tasks and projects.
The actual meeting day at the Peres Center was a special and exciting day for the participants, as they were finally able to meet in-person. Spending a full day together in a physical space allowed them to strengthen their relationship, have an open dialogue and further get to know one another on a personal level.
The participants were extremely excited, and provided a positive feedback.
One of the students from Wadi Salameh said:
"I never had a Jewish friend. I never hated them or was afraid of them; they were always there, yet separated and far away. Because of this, I was a little nervous when I joined the Peres Center's project. In the beginning, when I first talked with students from Yokneam through Google Hangout, I was surprised to see how similar we were. We have the same daily routine, our hobbies are very similar and we want the same things. As we continued meeting through Google Hangout, we received valuable tools that helped us understand how to solve conflicts and overcome problems and disputes. It was fun, I got to know the Jewish students very well and left feeling encouraged."


Another student from Yokneam added:
"What I mainly remember was that it was a bit unpleasant at first. It was the first time in my life I met with kids from a different religion and different community, who live in a different reality. Whenever I looked at Arab villages from the car window, I could never imagine how they actually live. It didn't even interest me that there were kids my age. I'll admit that if I saw them on the street, I wouldn't try to talk to them. But after our conversations on Google+ Hangout, I realized how similar we are. Despite the difficulties in communicating, we were able to understand each other and shared many funny moments. The project boosted my awareness and desire to know more about life beyond my religion and city."