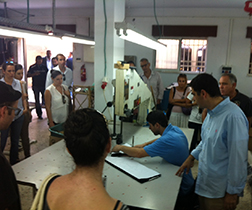 August 15th, 2013
This month, over 30 leading Israeli fashion designers, fashion stylists, bloggers and businesspeople came together to visit three Palestinian textile factories in the West Bank, located in Al-Ram and Beit-Jala. This was the first tour in the framework of the recently initiated Peres Center for Peace B2B Tours series, which expose Israeli buyers to the professional capacities of the Palestinian industry in the West Bank.
The tours not only provide Israeli participants with an extremely rare opportunity to view firsthand the technology, capacity, infrastructure, and manpower on the Palestinian side, but tours also serve as powerful vehicles for raising awareness among the wider business community of the real potential for cross-border business cooperation.
The participants, some of whom had never been to the West Bank, were excited to explore new business opportunities and be able to conduct face-to-face business meetings with Palestinian partners, as well as experience the process of manufacturing different types of textiles (dyeing, sewing and preparing all material ready for distribution). The first textile factory that the group visited is located in Al Ram, a short of drive from the Qalandiya Checkpoint. The owner welcomed the group with local pastries and drinks, and gave a brief introduction about his factory, which has more than 100 years of textile experience.

Later on in the day, the group visited a well known textile manufacturer in Beit-Jala, where they witnessed the entire process of creating fabrics from scratch. During the tour, the designers presented design samples to the Palestinian manufacturers, discussed logistical issues such as production quantities and delivery, and developed concrete contacts for future business.
The participants provided positive feedback about the tour, stating that it was a unique way to explore business opportunities in the West Bank. The designers noted that the tour exceeded their expectations and greatly enriched their knowledge of the textile manufacturing industry. On their way back home, the fashion designers, distributers, and businesspeople discussed future plans for collaboration with Palestinian manufacturers.
This activity is part of the "Partners in Business, Partners in Peace" project, which is supported by the European Union, and the Royal Norwegian Embassy in Tel Aviv.