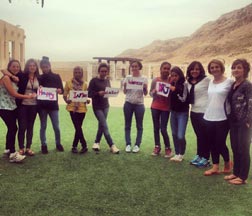 8th March 2013
Celebrating Women on International Women's Day- And Every Day
We think all the girls in our sports programs - Arab, Jewish, Israeli and Palestinian - are amazing. Not only do they have to deal with the complex issues that arise from playing sports together with girls from the 'other side', but often, as girls involved in sport, have to battle gender stereotypes within their often conservative communities.

Particularly amazing are the 15-17 year old Israeli and Palestinian girls taking part in our second bi-national seminar held at the Dead Sea as part of the USAID young leadership program. They are taking on the complex issues of national identities through personal narratives, and through the experience developing the skillsets and leadership skills they need to empower themselves and teach others. These young women will then take on the difficult challenge of leading the younger girls at residential summer camps in the summer. We're sure that the added presence of these young women as coaches will greatly enrich the experience for all concerned.

In addition, over 40 girls from Arab and Jewish communities in Israel (Jerusalem and Ein Rafa) marched in honour of International Women's day in Mateh Yehudah Regional Council. This activity is within the framework of a 3-year program funded by the Jewish Federation of Washington, Real Madrid Foundation and Mateh Yehudah Council.

Truly amazing. Way to go girls!