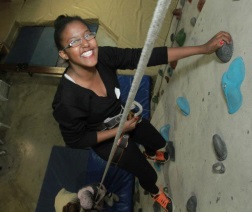 1st March 2013
A particularly adventurous activity was held for the young women participating in our USAID young leadership program at the Jerusalem Climbing Wall. Most of the girls (maybe sensibly) had never visited a climbing wall before, and so this day was even more for a challenge! Many were understandably daunted by the thought of climbing the wall, but very quickly began to enjoy themselves.

Under professional guidance the girls were divided into joint Israeli-Palestinian pairs, and began the climb – with one of them climbing and the other securing her. The girls had to place total trust in each other – which they did without hesitation, and soon all the girls had completed the climb.

One of the participants remarked: "At the beginning I was scared to climb, but I trusted my friend who was securing me, and we both enjoyed it immensely."
For photos of the event see the Sports at the Peres Center for Peace's facebook page.