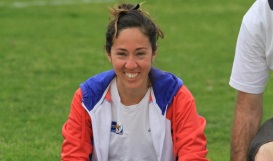 3rd March 2013

A special team building and bonding session was held for the coaches and staff of our USAID Twinned Peace Sports Schools for Girls. 20 coaches met in the Kiryat Gat stadium, where they underwent a particularly sporty professional training session with an internationally acclaimed Jordanian soccer coach. During the day they participated in role playing sessions where they learned more about the experiences of the young girls taking part in the programme, and in between sporting, interlanguage and teambuilding activities got to know each other on a more personal basis.
The day was hugely enjoyable for all concerned, and the entire team felt they benefitted from the experience and believed it will serve to strengthen future activities.
We wish them all the best of luck!
For photos of the event, see the Sports at the Peres Center for Peace facebook page.