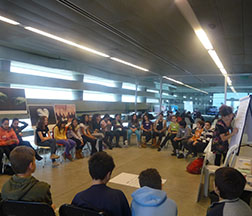 29th November 2012
The first workshop of the new cycle of the Coexistence arts project was held last week at the Peres Peace House with kids from Isgav school from Tel Aviv and Renaissance School from East Jerusalem. The project utilizes visual arts to teach values of respect, mutual understanding and tolerance.
In the first part of the session each class sits separately with a moderator who speaks their language, and then come together and create drawings based on the concepts of coexistence they learnt during the workshop.
Through the universal language of art, the kids managed to freely communicate with each other and cooperated to create some truly special works of art.
Every meeting happens at the Peres Peace House and is attended by two classes – one from a Palestinian/Arab school and one from a Jewish school. 13 more workshops will be held throughout the year with Jewish, Arab, Israeli and Palestinian childre aged 10-12.

This wonderful project is happening thanks to the generous contribution of Sabine Stamminger president of IrespectU and her commitment to the Coexistence project - thank you Sabine!