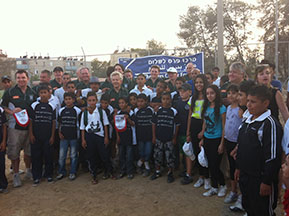 11th October 2012

60 children from our Cricket4Peace program were delighted to have a very special visit – nine British Members of Parliament who are members of the Lords and Commons Cricket Club who were on a 4 day tour of Israel.
The event took place at the Beer Sheba Cricket Club and was attended by Jewish, Beddouin and Palestinian kids from Samoa, Hura and Beer Sheba, who play cricket together on a regular basis. The kids split up into groups (mixed Jewish-Beddouin-Palestinian of course) and undertook a number of activities at different 'stations' that included inter-language learning and of course cricket training.
The esteemed guests took an active part in the activities, and the kids loved having some VIP guests to play with. The MPs also greatly enjoyed an exciting and inspiring day, and said the experience would remain with them for a long time.