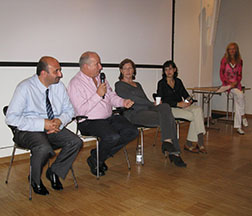 Representatives from the Peres Center for Peace and doctors from our Medilink doctors training program returned last week from a 4-day visit to Copenhagen hosted by a group of Danish Peres Center supporters. After visiting Copenhagen in September of 2011 with two coaches from our Twinned Peace Sports Schools program, this year the focus was on our Medicine and Healthcare programs and on promoting our peacebuilding activities to a wide range of communities in and around Copenhagen.

The delegation consisted of Rachel Hadari, Director of the Medicine and Healthcare Department, Ronnie Gross, Coordinator of External Relations, Dr. Ilan Gur, Head of the Neonatology Department at the Israeli Bikur Holim Hospital in Jerusalem, and Dr. Nasseraldin AbuSaleh, a Palestinian pediatrician who through the Medilink project is undergoing his residency in Neonatology under the teaching of Dr. Gur. The team presented the work of the Peres Center to officials at the Danish Ministry of Foreign Affair, which generously supports the Medilink program, members of the Danish Parliament, students in the fields of medicine, education and political sciences, members of the Jewish community, and various aid organizations. In addition, at a unique fundraising event guests enjoyed musical performances courtesy of the Goldschmidt's Academy of Music and Henrik Goldschmidt, as well as a range of performers and speakers.
The team was very enthusiastically received by the various communities, who were fascinated by the work carried out by the Peres Center, and especially by the unique story of Dr. Gur and Dr. AbuSaleh. This is the second year that the Peres Center has been so kindly hosted by our Danish friends, and we wanted to take this opportunity to say a big thank you to all those who welcomed us so warmly, and in particular to Bent Korzen without who the trip would not have been possible. We are looking forward to further delegations in the future.