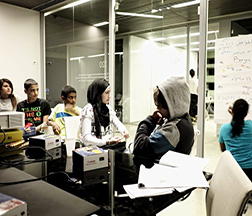 October 9th, 2013

This month we have opened a new and unique photography project which involves the collaboration of 16 Jewish and Arab youngsters from Jaffa.

The youngsters, ages 15-16, were nervous and excited before the first meeting. They didn't know what to expect. After sitting together in the same room for only a few minute, they found out that they have a lot in common. When they got their personal camera, which will serve them throughout the entire program, they felt even more comfortable!

The youngsters will be meeting once a week for the next academic year and will go through peace education activities and photography workshops. As part of this project, the participants prepare their personal photography projects with the professional guidance of a renowned Israeli photojournalist and an Arab- Israeli peace education lecturer.

The final project will focus on the topic of coexistence, and will incorporate the participants' feelings towards tolerance and coexistence.
This project is supported by IrespectU.