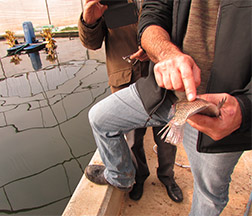 December 9th & 25th
As part of our Aquaculture Development Program's farm consultation efforts, Israeli aquaculture consultants spent two days visiting several household fish farms across the West Bank to provide technical consulting on farm management practices, and to reflect on successes and challenges of the current growing season, as it comes to an end. The team of Israeli consultants have been working with the farmers for their first two growing seasons on developing technical know-how for managing aquaculture businesses, through capacity building workshops and consultation site visits, all facilitated in the framework of the program.
From this month's site visits, it became apparent how far the farmers have come since they first launched their fish farms a year and a half ago; the majority of farmers no longer encounter technical challenges in raising their fish, rather their successful production has led to a new challenge of infiltrating the local markets with a large supply of fish. Approaching the Tilapia market is especially challenging this year for Palestinian and Israeli fish producers alike, as prices have dropped significantly in recent months in the whole region due to recent imports. These emerging challenges surrounding effective marketing and post-harvest care, which were gleaned from the day of site consultations, will be addressed in the concluding activities of this year's program.
Through our Aquaculture Development Program, we hope to continue promoting knowledge-sharing collaborations between Israeli and Palestinian fish growers and aquaculture industries, as we work towards establishing long-term business and professional relationships in the sector. This program is generously supported by the Pratt Foundation.