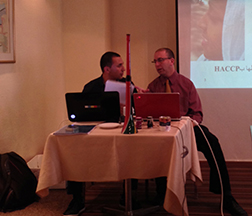 November 6 - 7, 2013
View Point: Op-ed
By: Naama Myers & Max Budovitch
On November 6 and 7, the Peres Center for Peace hosted a Capacity Building Course on the topic of Food Standards at the Leonardo Hotel in Tel Aviv for 20 Palestinian companies. Representatives from across the West Bank attended the two-day, overnight seminar, entitled "HACCP team leaders' course," presented by the Israeli Standards Institute.
The training sessions were characterized by vivacious discussion, breakout-group projects, and individual presentations, which covered all aspects of HACCP standards including practical and applied strategies to limit dangers associated with food production, whether they be biological, chemical, or infrastructural.
Participants forged personal and professional bonds and enjoyed themselves during their free time with shared meals and walks on the Tel Aviv boardwalk. For some participants, this visit marked their first time in Tel Aviv and in Israel in general, an experience that was both meaningful and exciting.
The seminar ended with a HACCP team leaders' exam and all participants received HACCP training certification, which vouches for their grasp of these international-level standards. We were not surprised to find that all of the participants passed the exam with flying colors. Upon departure, the participants indicated their enthusiasm for implementing HACCP standards in their facilities and their intention to realize greater product quality and business prospects. We are confident that this certification will help the participating companies to expand their export potential and deepen business cooperation, with Israeli companies among others.
A "Needs Assessment Study" conducted in 2012 indicated that the Palestinian share in Israeli merchandise imports has been as low as 1.5%. As a part of this same study, our team at the Business Department and our Palestinian and Israeli partners identified the Palestinian food industry as one of three key areas presenting potential for considerable export growth. However, many Palestinian companies are not yet compliant with Israeli standards or possess the required product quality and marketing capabilities in order to reach the Israeli market and truly realize this growth potential.
Increased product quality and marketing capacity may boost Palestinian exports to Israel from today's $150 million per year to a potential $500 million annually. Combined with increased global trade through Israel and increased exports to the Arab World, the total direct and indirect growth of Palestinian exports as a result of increased quality and capacity could reach $800-$900 million per year.
This seminar, like others of its kind, proves that building the foundation for fruitful business relations between the two sides is not only possible, but also essential. The dependency of the Palestinian economy on Israel compels us to work toward helping the Palestinian private sector realize its full potential, and in the process, to generate a state of mutual gain by taking steps to build trust and create a network of business ties based on mutual interests.
Naama Myers, Project Manager at the Business & Environment Department.
Max Budovitch, Intern at the Business & Environment Department.
This activity was made possible through the support of the European Union's Partnership for Peace Program, the Royal Norwegian Ministry of Foreign Affairs, and the GIZ (Deutsche Gesellschaft für Internationale Zusamenarbeit)

This project is funded by the European Union