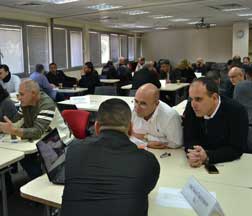 14th January 2013
As part of the Private Sector Partnership project, supported by the Norwegian Embassy in Israel and the European Union Partnership for Peace Program, a number of B2B (business to business) meetings and seminars were held at the Tel Aviv & Central Israel Chamber of Commerce for Israelis and Palestinians from the furniture industry.
Approximately 15 Palestinian and 15 Israeli furniture importers, manufacturers and distributers came to the meeting, which resulted in a very high quality of interactions. The Israelis had the chance to learn about the abilities of the furniture manufacturers in the West Bank, about partnerships that have been functioning successfully for many years, about the huge potential that still exists in the market and the advantages for the Israelis of working with the Palestinians (for example the opportunity to acquire custom made raw materials at a lower price, efficient production methods, the ability to buy smaller quantities and more).
The representatives on both sides exchanged contact information, and a foundation for real business partnerships was formed through many of the interactions. In part of the cases we had to actually cut short some of the meetings in order to allow all participants to meet each other.
We received very positive feedback from the Palestinian participants, each of whom predicts that real contracts will result in the near future (and we have already received requests from Israeli companies who have asked us to support them in starting the process).
We hope to be able to update you on successful interactions and partnerships in the near future.