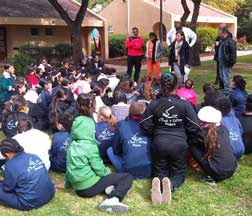 6th and 14th December 2012

A series of camps were held for 94 girls aged 7-11 from Kibbutz Kfar Menahem and Beit Nir girls from the Arab town of Zbidat and East Jerusalem.
The first was a full day of activities held at Kibbutz Galon, where the girls had the chance to meet each other and make new friends. Despite the language barriers, the girls managed to communicate freely and without interference. They were kept busy with activities such as football games, language learning, zumba dancing and a darbuka drum workshop.
The second part of the camps were held at the Peres Peace House in Jaffa, where the girls participated in a joint dreidel spinning competition before embarking on an afternoon of culture and crafts, including an arts workshop based on the concept of peace, where they had the opportunity to discuss their views with each other and watch a specially tailored play by Amu Sabar.