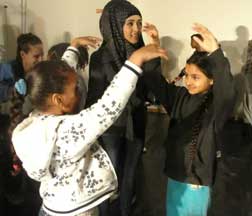 19th and 27th Dec 2012
Girls who play football are sadly not a regular occurrence, but girls who play football and then go out for a dancing activity is even rarer. But this is just what 150 girls from our Twinned Peace Football Schools did in two extra special activities. The girls were hosted by the Shalem Dance Organization in Jerusalem, and despite the chilly temperatures outside inside the studio the girls danced together as one.

The event was part of our USAID Twinned Peace Football Schools for Girls programme.
For all the photos of the event, see the Sports at the Peres Center for Peace's facebook page.