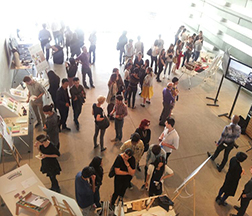 April 2014

We were happy to host the "GoGlobal Israel-Palestine Exhibition 2014".

This event involved Israeli and international design and engineering students who were presenting their innovative designs, developed to promote handicraft workshops in Israel and the West Bank.

GoGlobal aims to conduct design projects which have a wider social, political and geographic impact.

This project is a collaboration with Shenkar College of Art Engineering and Design, the Royal College of Arts (RCA), and the Imperial College London.