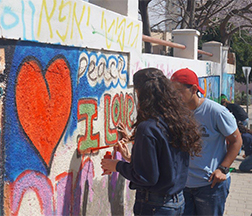 11 March 2014

This month, the Peres Center for Peace participated in Good Deeds Day, giving back to the local Jaffa community.
The Center's staff, along with freshmen from Agiyal High School in Jaffa, began renovation efforts on the Jaffa headquarters of the Arus El Bachar non-profit organization for women. Crews cleared weeds and repainted walls, giving the building a fresh new look.

The day continued with a joint sports activity at the Achva Elementary School, in Jaffa. The Center's staff and Agiyal students manned several stations, leading children in various sports.

Participants exceptionally collaborated together, demonstrating sportsmanship and camaraderie throughout the day.

The day ended with a tug of war competition between Achva students and a team consisting of Peres Center staff and Agiyal students. Acvha's students won the competition with ease, effortlessly managing to pull the rope towards them.

Good Deeds Day was an opportunity to connect with the local community, presenting a collaborative effort to jointly create a pleasant environment for all.
The participants enjoyed the day, claiming that they anxiously anticipate future opportunities to contribute to the local community.
For more photos please click here.