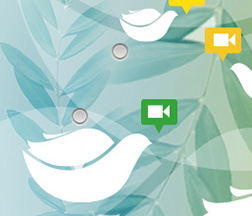 23rd April 2013
A truly special 'Hanging out for Peace' meeting was held at the Peres Peace House last week when the 120 Jewish and Arab participants of the program got to meet each other face to face for the first time.

The project, run in partnership with Google and the ORT school network, gives Jewish and Arab students the opportunity to get to know each other through a series of virtual dialogue sessions using the Google + Hangout platform. Following four virtual meetings, the group got to meet at the Peres Peace House for the first time , after which they will meet again another two times, concluding with a meeting at the Google offices.

The day kicked off with an ice breaking activity and discussions about the student's final project, a video project entitled: "Yom Ehad, Yom Wahad" ("One Day" in Hebrew and Arabic), which will integrate video recordings made by each of the participants about their daily lives. Following the discussion, the participants were split into 'circles' (physical this time, not virtual), and they started work on their various assignments.

The students were particularly moved by a surprise organized by Google – a video greeting by President Peres:

The whole day was hugely uplifting, and particularly special were the immediate connections that were formed between the students, who for the first time got to meet each other face to face.

Every day we are seeing the amazing possibilities offered by technological advances, especially those in the realm of communication, and we are hugely grateful to Google for their support of this project.