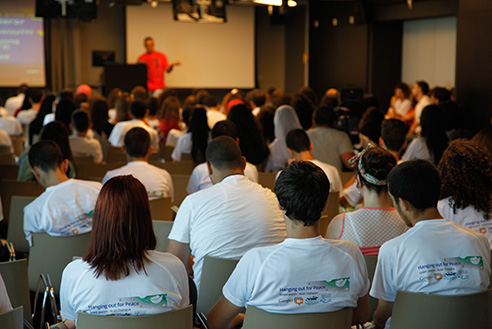 June 11, 2013
Over 100 Jewish and Arab Israeli teenagers came to the end of a journey they have undergone as part of the Peres Center's new project Hanging out for Peace, a partnership with Google Israel and the ORT school network.

Hanging out for Peace gives Jewish and Arab students from high schools throughout Israel the opportunity to get to know each other through a series of virtual dialogue sessions which utilize the Google + Hangout platform.
Following six virtual dialogue sessions and one face-to-face meeting that took part in April at the Peres Peace House, 112 Jewish and Arab students from 15 different ort high schools came together at the Google offices in Tel Aviv, for their final project activity. Teachers, principals, the Deputy Director General of Ort School Network, Google and Peres Center staff participated in the event.

Well-known Israeli Arab actor Norman Issa, who plays a leading role in the Israeli TV series "Avoda Aravit", addressed the youth, leading an open discussion which touched on various issues regarding Jewish and Arab coexistence in Israel, and encouraged them to continue on this path of dialogue, tolerance, understanding and friendship.
Each participant received a certificate marking their participation in this unique peacebuilding project, which was deemed a huge success by all those that participated in or witnessed the project.

The Peres Center would like to thank Google and ORT for making this project possible.
You are invited to watch a short video about the project which expresses the experiences of the inspiring youth that were involved.