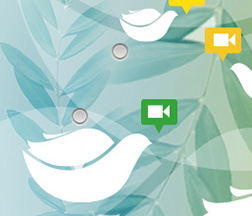 We are delighted to announce the launch of a new dialogue project using the innovative Google+ Hangout tool. In cooperation with Google, we will be holding a series of 'Hangouts' on Google+ designed to enable dialogue between Arab Israeli and Jewish Israeli university students, who despite often living side by side and attending the same universities rarely truly interact or talk to each other.
"Hanging Out for Peace" is a six-month project that will involve nearly 150 students, women and men, with an equal number of Arabs and Jews. Students will be divided into mixed Jewish and Arab 'circles' and matched with other students who study the same subject at university.
The students will meet and communicate via Hangouts on Google+, led by professional peace education instructors, and will undertake online and offline projects related to their circle's area of academic focus.After a series of Hangouts, the students will meet face to face, present the projects they've developed to the larger group of participants and discuss issues that arose during their work together.
Ido Sharir, Director General of the Peres Center said "I'm sure this project will create much needed dialogue and friendships between people who despite their physical proximity and shared interests would rarely interact. The Peres Center has years of experience using virtual communication as a tool to break down barriers and allow people to interact in a setting that they are totally comfortable with, and we are sure that the unique environment that the Google + Hangouts provide will be the ideal place for these interactions to take place."
The launch of the new project was publicized on the official Google blog.