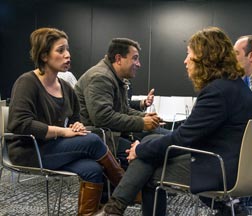 11th March 2013
The Hanging out for Peace project began this week with a training session for 35 teachers and instructors at the Google offices in Israel.

120 Jewish and Arab 10th grade students from the ORT (Israel sci-tech schools) network based in communities across Israel will this week begin a series of 'meetings' using Google + hangouts. The students will be divided into 15 'circles' made up of an equal number of Jewish and Arab students, who will use the Google+ hangout feature to work together on a number of projects and participate in open dialogue. Additionally, the students will participate in two face to face meetings at the Peres Peace House at which they will present their final project, a documentary film that will portray the insights they have gained from the project, produced under the guidance of a professional documentary filmmaker. The projects will be screened in schools, on a number of Google sites, and presented to President Shimon Peres as part of his 90th birthday celebrations.

We wish them all the best of luck and will keep you updated on their progress.