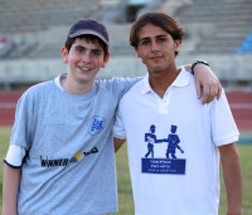 28th February 2013
Two of the young participants - an Israeli and a Palestinian - of our Cricket 4 Peace project have reached the top 6 nominees of the International Cricket Council's (ICC) 'how has cricket changed my life' story competition – and you can help them get to the top and win a Flicx Cricket pitch for their community!
Click on the links below to read their inspiring stories, and of course vote. You will need a Wordpress account to like the story (it's an easy registration process), but they also gain points for every facebook share or tweet – so it's easy to contribute.
Thank you for your help! We'll keep you updated on how they do!
http://flicxpitch.wordpress.com/icc-competition/israel/
http://flicxpitch.wordpress.com/icc-competition/palestinianstory/