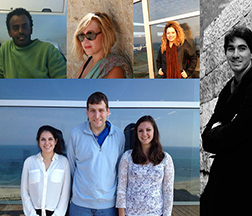 January 6, 2014
The Peres Center for Peace attracts interns from all over the world. This diverse group of young people contributes time and energy to the Peres Center's projects, and is an integral part of the Center's team.
Ofri Tischler, 25, who is interning as a part of her Bachelor's Degree in Global Studies from LIU Global, says she was drawn to the Center by the "people to people approach," which she feels is the most meaningful way to positively impact conflict.
Ofri has been working in the Community and Leadership Department as a project manager on the Fetzer Joint Workshop, which utilizes the PeaceMaker© game to empower youth to explore the Palestinian-Israeli conflict, consider the situation faced by the "other side," break down misconceptions and dismantle stereotypes. "You really see the kids' opinions changing throughout," she says. "Actually seeing the project up and running, seeing how it shifts mindsets – it's just amazing."
Robert Venezia, 27, has a Bachelor's Degree in History and Education, and a master's degree in Holocaust and Genocide Studies. Robert has been interning in the Sports Department, and loves working at the Peres Center. "There haven't been many jobs in my life where I've sincerely looked forward to coming to work every day. The mood here is infectious, and as an intern you feel truly appreciated." Robert most enjoys assisting the sports department in coordinating and managing the mixed training camps for Arab and Jewish and Palestinian and Israeli children through the Twinned Peace Soccer Schools (TPSS) program. "Watching them speak each others' languages is fascinating. You see the children encouraging each other in their broken English to pick up basic Arabic or basic Hebrew," he says. "It's amazing to watch this interaction unfold. In these little things, you see how much can be accomplished through sport, its ability to change perceptions and bring people together."
Joe Rosenblatt, 18, from Liverpool, UK, interned in the Business and Environment Department during his gap year before attending the University of Leeds. "I believe that creating proper economic relations is the best way to influence the government, to make real changes among people with different backgrounds and cultures, and to get individuals to connect with each other," he says. "The whole ethos of the organization – from sports to healthcare and medicine – is amazing." Joe's favorite experience while working at the Center was attending a food standards training workshop under the umbrella of the "Partners in Business, Partners in Peace," project, supported by the European Union, intended to increase Palestinian food export capacity. As for the work environment at the Peres Center, Joe describes it as "wicked!"
Max Budovitch, 22, graduated from Yale University last May, and also interns in the Business and Environment Department. "The Business and Environment Department – the Peres Center as a whole – approaches conflict in a positive manner. They look at it through the lens of actually improving people's lives and making the most of the available resources in our region," describes Max. "The Peres Center is located in Ajami neighborhood in Jaffa, which is a very interesting area in the city of Tel Aviv-Jaffa for Arab-Jewish relations," says Max, who currently lives in the heart of Jaffa. Max has been working on a Middle East Partnership Initiative (MEPI) funded project that will assess transaction costs faced by Palestinian businesses and evaluate what can be done to lower these costs and improve trade. The Peres Center is "very energetic," says Max. "There are a lot of different things going on at any given time."
Jerusalem local Dawit Kiflom, 30, is currently studying for his Master's Degree at the Hebrew University and is interning in the Business and Environment Department as part of the Glocal Development Program. He has been working on the program evaluation of the Aquaculture project, a process he describes as "very technical and very interesting. Evaluation is extremely important. It helps assess a program's success and explore need for future funding." The aquaculture project increases the capacity of Palestinian businesspeople and entrepreneurs to establish fish farms in the West Bank, through training in aquaculture systems and enhancing opportunities for business cooperation between Palestinians and Israelis in this particular field.
Elana White, 22, originally from San Francisco, is spending time in Israel as part of MASA's Tikkun Olam program. She chose to intern at the Peres Center because she was inspired by the diversity of projects and the Center's widespread impact. "It's great to see all of the work that is being done here on a daily basis, especially from my unique vantage point in the External Relations Department, where we work with all of the departments assisting them with research, funding, proposals, and more," says Elana.
Noa Naftali, 22, who also interns in the External Relations Department, moved to Israel in August after graduating from Tufts University last spring with a degree in International Relations. She has been interning at the Center for four months, focusing on new media. "I believe that new media has the power to educate and change mindsets by exposing people to relevant information at the right time, and significantly expanding access. I enjoy working in the digital sphere as part of my daily work at the Center. It's an incredibly dynamic arena, especially in the field of peacebuilding ."
Efaf Hanania Alsousou, 23 year-old Yaffo resident, interns in the Sports Department as part of her degree in Government and Society at The Academic College of Tel Aviv Yaffo. Efaf recently joined the team and will be interning at the Center until July 2014. As part of her program, she assists the Sports team in planning and executing their various initiatives and has an active role in conceptualizing and evaluating programming. "I'm amazed at the amount of work and effort that goes into these projects. The team is great, the atmosphere is wonderful and I've learned a lot," says Efaf. "I'm sincerely looking forward to the rest of the year."
Kristen Verwey, 23, recently moved from Calgary, Canada, and studied Political Science and Italian at the University of Calgary. At the Center, she has been involved in donor outreach and seeking out funding opportunities for new projects. "I am learning a lot about this field and how projects are practically implemented. I feel like I am taking away a lot of great experiences that will be very helpful in the future."
The interns at the Center are an integral part of daily work in the Peres Peace House. Their dedication and hard work enables us to achieve better results and work more efficiently. The Peres Center for Peace is happy to provide interns from all over the world with extraordinary experience in peacebulding activities and programs, promoting lasting peace and advancement in the Middle East and exposing them to our vision of a better and safer world.