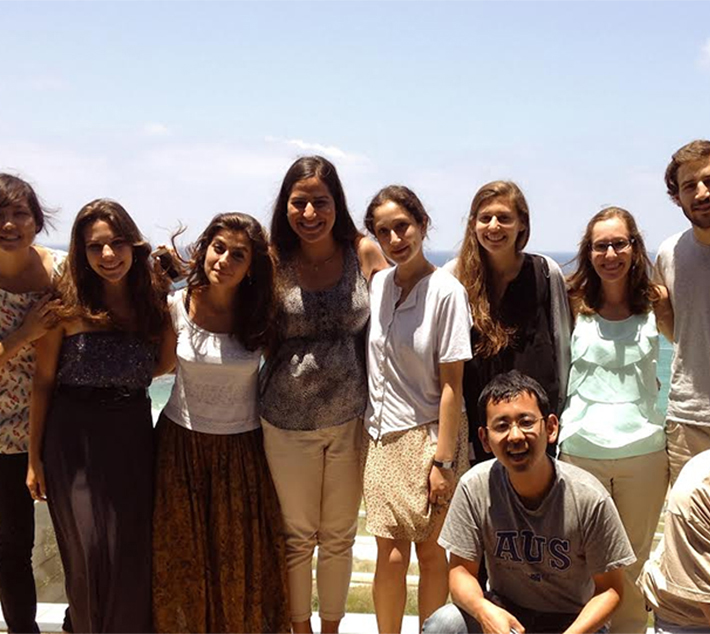 Meet the Interns June 2014

The Peres Center for Peace attracts interns from all over the world. This diverse group of young people contributes time and energy to the Peres Center's projects, and is an integral part of the Center's team.
Anna Kitsmarishvili is originally from the country of Georgia. She grew up in New York and is currently living in Malibu, California. As a rising junior at Pepperdine University, she studies political science and philosophy. Anna is thrilled to have the opportunity to spend her summer volunteering in Israel, thanks to the Brenden Mann Foundation and the Glazer Institute for Jewish Studies. Prior to joining the External Relations and Development Department at the Peres Center for Peace, Anna interned at the U.S. House of Representatives in Washington DC, as well as Medair, a humanitarian relief organization in Switzerland. Her interest in the history of the Middle East was sparked during an educational trip to the United Arab Emirates last fall. She chose to come to the Peres Center because she believes that through the initiatives of the organization, lasting peace can be made both within Israel and with neighboring nations. She states; "There is something quite special going on at the Peres Center. It is an exemplary organization and a pillar of hope for thousands of individuals."
Takeshi Kobayashi, originally from Tokyo, Japan, is a graduate student studying International Relations at American University in Cairo. He plans to write about Middle East peace processes in his Master's thesis and therefore, sees his internship at the Peres Center as a way to learn first-hand about the various Israeli perspectives towards peace. "I know it does not necessarily represent the majority of opinions in Israel but it is still valuable because this kind of activity in Israel is often ignored in major news reports," states Takeshi. Prior to his studies, Takeshi worked in a Japanese governmental organization for trade and investment for almost 8 years. During his internship, he has enjoyed the opportunity to join the Palestinian Products Exhibition in Nazareth, organized by the Peres Center. "Japan is making a lot of contributions to the two-state solution. Therefore, I would like to support the Center's mission even after I return to Japan."
Esther Lee, originally from California, is a second-year graduate student in International Affairs, studying Energy and Environment with a specialization in International Conflict Resolution at Columbia University. She interns with the Business and Environment Department as part of their cross-border biogas project. She is very happy to be interning at the Peres Center for Peace because it is an opportunity to work with an organization that provides a unique perspective and strategy in their approach to peacebuilding and conflict resolution.
Lee Levy, comes to the Peres Center from New York. She grew up in Israel and is currently pursuing her Master's degree in International Relations with a concentration in Conflict Management and International Economics at the School of Advanced International Studies (SAIS) Johns Hopkins. She is interested in post-conflict reconstruction and innovative approaches that promote reconciliation by facilitating mutually beneficial cooperation, which is why she chose to intern at the Peres Center. "I enjoy working with an organization that focuses on local projects that foster collaboration among the various sectors of civil society. Working with the Peace Education Department is inspiring. I love learning about the diverse projects that bring children and teens from different nationalities and backgrounds together for a common cause."
Dan Poniachik studied Economics at the University of Chile, and is currently interning in the Business and Environment Department, and focusing most of his time on a U.S.-Middle East Partnership Initiative (MEPI) funded project that aims to provide practical recommendations for easing transaction costs that the Palestinian private sector faces when trying to engage in international trade. During his internship, he has also had the opportunity to work on other projects, including a regional economic research project facilitated by the Aix Group (a joint Israeli-Palestinian-International economic working group). During his time at the Peres Center, Dan has been able to witness, first-hand, Israelis and Palestinians working together for a future of peace through sport events, business-to-business meetings, and joint academic research.

Rachelle Tchiprout is an undergraduate student from Reading University in England who is interning for 3 months in the Development and External Relations Department at the Peres Center. Rachelle grew up in London with her parents and her 5 sisters, and at the age of 18 she decided to move to Israel and serve in the Israel Defense Forces. After her two-year service in the International Relations Unit, she returned to England to start her degree in War, Peace and International Relations. "When I was considering an internship, the Peres Center jumped off the page for me. The work that they do is so inspiring and important, and it is an honor to be a part of it," says Rachelle.

McKenna Tucker is originally from Memphis, Tennessee and moved to Malibu, California in 2013 to study about the Middle East and North Africa, and learn Arabic, French, and Spanish at Pepperdine University. She currently interns in the Business and Environment Department as a recipient of the Diane and Guilford Glazer Institute's Brenden Mann Internship program. "My first summer in college, I felt that pursuing the opportunity to live and work in Israel would be a powerful stepping stone in carving out my career. This internship has placed me literally in the heart of history, to explore and experience the mosaic culture of Israel and other pieces of the Middle East first-hand. Working at the Peres Center for Peace has enriched my time here all the more; I'm learning that age and experience in this work environment are counterbalanced by vision and drive." During high school, McKenna co-built an international organization for global youth, specifically those in conflict areas. She is interested in counter-terrorism, conflict resolution, and emissary work.
Alexandra Zeitouni is currently working towards her undergraduate degree in Economics, French, and Entrepreneurial Leadership Studies at Tufts University in Boston, MA. Born to Israeli parents, Alexandra has spent a lot of time in Israel and decided to devote her summer to working in a field that is both meaningful and relevant to her studies and interests. In the past, she interned in the Economic Affairs Department at the Consulate General of Israel to New England and was a marketing intern at Insightec, Ltd. in Haifa. She has found her internship in the Business and Environment Department at the Peres Center very interesting, as it has allowed her to see the conflict from an economic standpoint, and work on projects that are focused on improving business and trade relations between Israelis and Palestinians.
The interns at the Center are an integral part of daily work in the Peres Peace House. Their dedication and hard work enables us to achieve better results and work more efficiently. The Peres Center for Peace is happy to provide interns from all over the world with extraordinary experience in peacebulding activities and programs, promoting lasting peace and advancement in the Middle East and exposing them to our vision of a better and safer world.